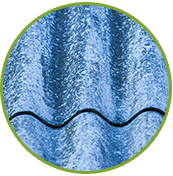 Residential Toxins Hiding in Plain Sight
Whether you're a weekend warrior inspired to replace that old popcorn ceiling in the basement — making ready for your new man-cave, or the new owner of an impressive fixer-upper set to rival any episode of HGTV, beware that your do-it-yourself remodeling project could expose you and your family to harmful toxic environmental hazards hiding in plain sight.
Popcorn ceilings, along with the old 9-inch tiles and linoleum flooring are just a few of the decades-old items that contain toxic asbestos, either within the product themselves, or found in the glues and/or backing used at the time of installation. Disturbing these products during a remodel can send small asbestos particles and dust throughout your home; particles that will begin a new and lethal life tucked into every corner, embedded within your furniture and drapes, buried into the fibers of carpet and even your clothes.
With every pass of the vacuum cleaner, the particles will be displaced again and sent out through the exhaust …a journey that will repeat itself until a fortunate few find a more permanent host environment, your lungs or those of your loved ones.
At N.A.L. our inspection and testing specialists care deeply about ensuring your home environment is safe from toxic dangers. Our assessment and collection process is quick, painless and we'll typically have the results for you within 24 hours.
Clearly the time to think about what might be hiding within plain sight in your home is before you begin any demolition or remodel.
To learn more about dangerous mold, asbestos and other toxic dangers that homeowners need to be aware of, download California's free Residential Environmental Hazard Guide.
We're here for you when you need us most.  If you're in need of immediate testing before your next remodel project, click here for a phone consult, an estimate or to schedule an appointment.