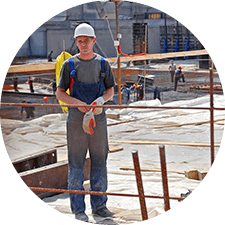 Environmental Testing and Reporting for an Insurance Claim
Previously known and unknown toxic environmental risks can plague a residential or commercial building owner, as well as a prospective buyer, and become an expensive cause for delays when demolition or reconstruction projects expose a new toxic risk.
Any hazardous environmental claim filed for insurance purposes will require professional assessment and testing, as well as post-abatement clearance reports.
Large commercial building and historical property owners are opting for additional Environmental Insurance coverage to mitigate the losses associated with the discovery of an existing or new environmental hazard.
N.A.L. understands the needs of those who are suddenly faced with having to provide accurate pre and post-abatement, quality analysis and reporting for insurance claims purposes, including quick turn-around times to help expedite the claims process.
N.A.L.'s experienced, highly qualified and certified staff will assess, test and issue the proper Insurance Claim reports for the following:
Mold and Fungi Testing
Bacteria and Hazardous Materials Testing
Fire and Smoke Residue Testing
Asbestos Surveys
Lead Paint Testing
Radon Testing
Indoor Air Quality Sampling
Clandestine Lab Investigations
Water Intrusion Assessments
We're here for you when you need us most.  If you're in need of immediate testing and reporting services for the purpose of an insurance claim, click here for a phone consult, an estimate or to schedule an appointment.